Lemongrass Shea Oil
£

11.00
Sold out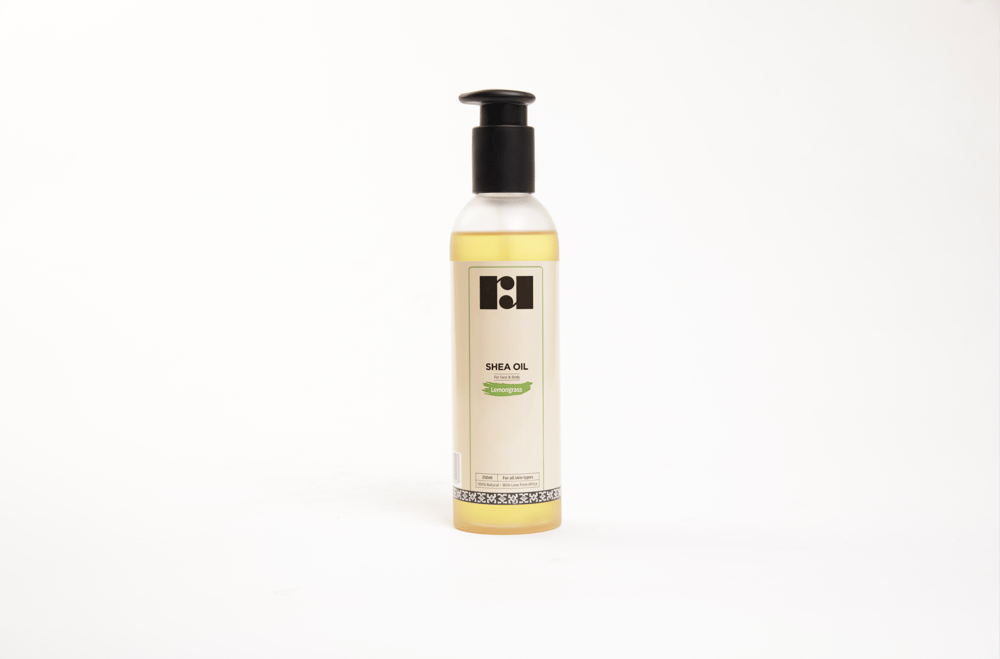 SHEA LUXURY ™
Our Shea Luxury range of skincare products is anchored by our best selling body oil, made from 100% Natural Shea Butter and fragranced with pure essential oils made from plant extracts.
All products in the Shea luxury™ range have one thing in common – 100% pure unrefined Shea Butter as their main ingredient and are perfect for the whole family. From fragile newborn baby skin to the adults in the home.
The well-documented benefits of Shea Butter include:
Dry Skin relief
Skin Toning
Relief from cradle cap for newborns
Anti-ageing properties
Helps to treat stretch marks and scars
Relief from sunburn
Hair emollient – reviving dry, lacklustre hair
Quick absorption into the skin
Makes dry skin a thing of the past
Ingredients- Butyrospermum Parkii (Shea Oil), cymbopogon citratus (Lemongrass oil)
Directions:
After daily bath or shower, the oil can be applied by pouring a few drops of oil into the palms of your hands, rubbing together and applying to skin. Oils can be mixed with normal body cream or applied to skin while it is wet. Shea luxury body oil helps with scarring, stretch marks, cradle cap,dry skin, ageing skin, sun burn, sensitive skin and dry hair/scalp.
Being a 100% natural product your oil is subject to change. In extreme cold weather conditions your oil may become cloudy or solidify. This is normal and can easily be rectified by immersing your oil in a jug of hot (not boiling) water.
- See more at: http://shop.randrluxury.com/product/Shea-Oil---Lemongrass#sthash.t7DMeO0r.dpuf